Sharing one of our success stories of complete remission
Sharing one of our success stories of complete remission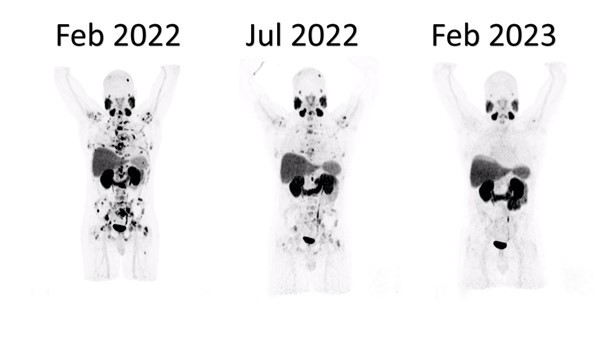 | | | |
| --- | --- | --- |
| Before the therapy | After 3 sessions of PSMA radioligand therapy | Control scan a year later |
In 2016, Chuck Christian was diagnosed with advanced stage prostate cancer. He says, his doctors gave him 3 years to live. In 2018 his son Micah Christian, the singer of Sons of Serendip, dedicated a song to his dad as a gift for Father's Day. Together they recorded a very emotional video.
Despite heavy pre-treatment (several rounds of chemotherapy, cryoablation and leukintherapy), PSA started rising again. When Chuck found his way to our clinic at the beginning of 2022, cancer had spread all over his body.  PSMA PET in February 2022 detected extensive disseminated bone metastases, lymph node metastases and carcinomatosis to the left lung. Chuck was on heavy pain medication (Oxycodon and morphine) to manage pain.
Due to the extensive bone involvement, we decided to start the therapy with the alpha-emitter Actinium-225 PSMA to preserve bone marrow cells. Already the first session brought about the pain relief significant enough to drastically reduce pain medication. PSA started decreasing. Two more sessions of RLT with 177Lu-PSMA followed with an interval of 4 weeks in-between. Blood work started improving after the 2nd session (haemoglobin and creatinine). Two months after the completion of the therapy cycle PSA decreased 60% from 46 before the therapy to to 18,4 after the 3rd session. Long story short, the response to the PSMA radioligand therapy has been nothing short of amazing. It can be appreciated on the PET scans that Chuck has kindly allowed us to share.
Fast forward to Father's Day of 2023 – Chuck continues in complete remission. He is back to his active lifestyle playing sports and enjoying life to the fullest. What can be more rewarding for his treating physicians than this – to be able to return a husband to his wife, a father to his children, and a granddad to his grandkids.